Cosmic Latte
A downloadable anticapitalist game
In 2003, astronomers determined that the average color of the universe was a light beige known as "cosmic latte" — but what do we know about the spacefaring baristas who brew these cosmic lattes? That's where you come in at the beginning of Cosmic Latte.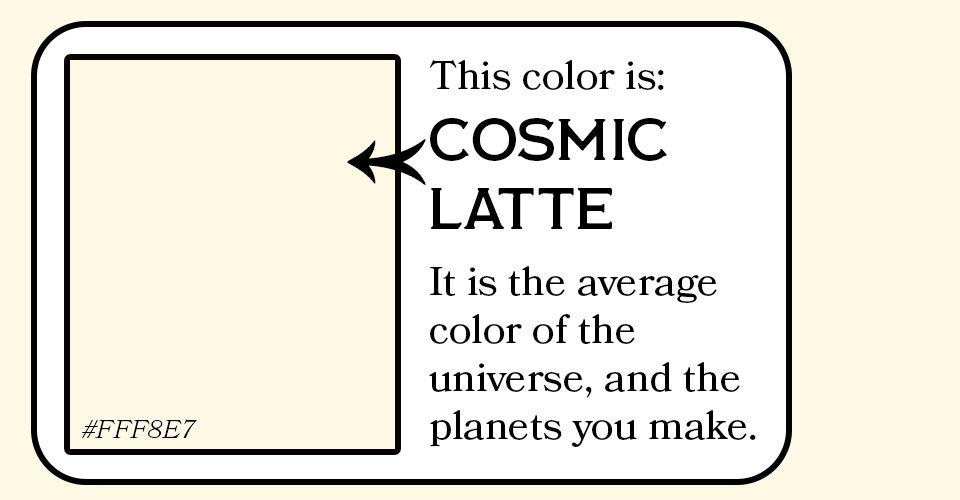 In a solo or group game, you'll play as a cadre of baristas tasked with creating new planets while trying to unionize.
Cosmic Latte is a one-page TTRPG, being sold as a print-and-play PDF. What mechanics does it use?
Timed journaling
Planetary worldbuilding
Dice rollin' (1d6)
Funky wheel turning
A bargaining unit recognition counter that ticks-up
Pressure that rachets up and up and up from your galatic overseers.
A 87-second clock inspired by the 87 seconds it takes Starbucks workers to make frappuccinos. The clock is always ticking. Your next planet is due any moment. Go go go!
The entire game is contained on one page and can be played in 30 minutes or less.
If you last that long.

To help union workers in both the short term and the long term, I will be splitting game profits between the Starbucks Workers Solidarity Fund, a mutual aid tool to support laid off and struggling workers, and Nick for 48th Ward Alderman, a campaign to elect a pro-union candidate to helm my ward and support workers rights, at my local Starbucks and beyond.
When I saw my local unionized Starbucks on Bryn Mawr announce it will close on October 30th before bargaining was set to begin, I saw what looked like further corporate malfeasance from a company that has already been accused of hundreds of labor violations by the NLRB. The Bryn Mawr location is the 10th store with union activity in recent months to be permanently closed by Starbucks. I wanted to create a short game that can be used to show the pressure baristas are under, with ticking clocks and arbitrary, burdensome management, in a fantastical setting. Cosmic Latte is my first draft of these ideas.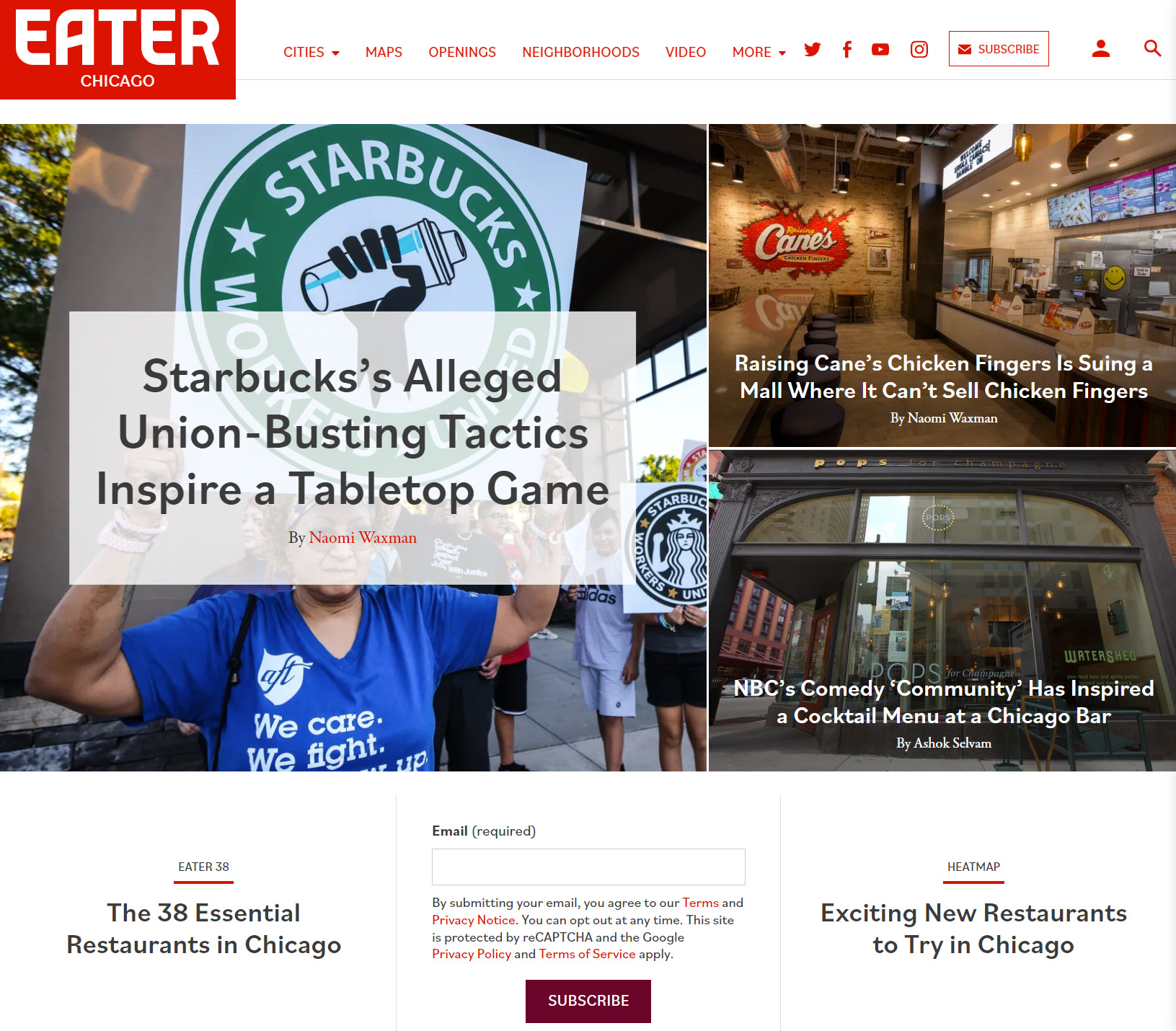 "That [pro-labor] energy has made its way into a seemingly unlikely venue: a tabletop role-playing game dubbed Cosmic Latte that plants its players squarely inside the highest-pressure barista gig in the universe."
-Naomi Waxman in Eater Chicago
"Worldbuilding tip: build a world where worker's have the right to collectively bargain for better conditions and compensation! You can even help build that world with Cosmic Latte, a one-page sci-fi journalling game by Pearse Anderson."
-Sean Foer on his @scene_four TikTok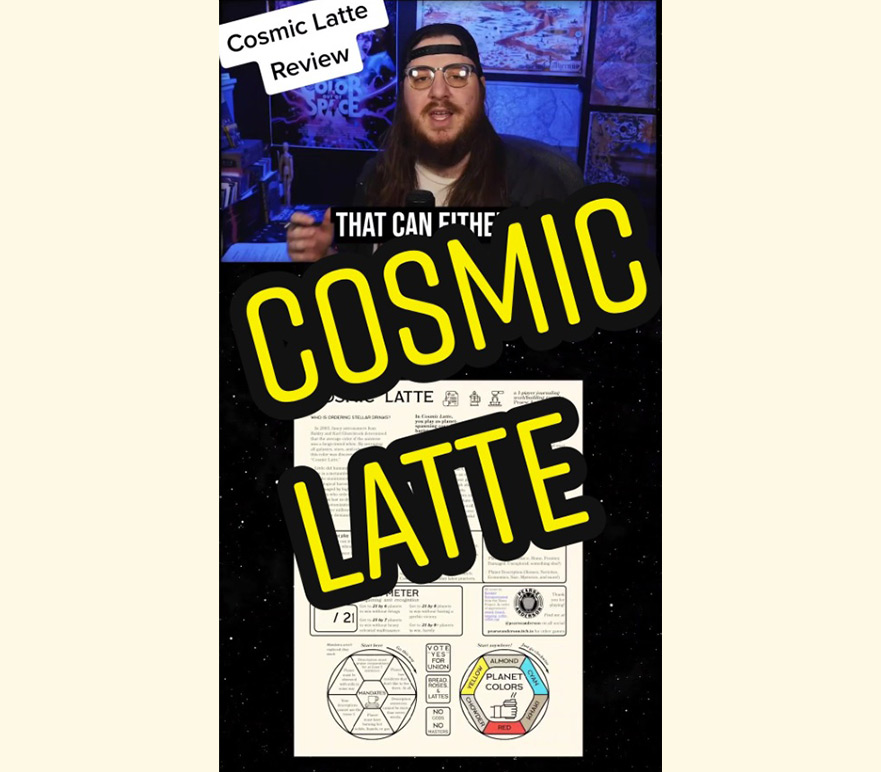 "There are a couple things Cosmic Latte does that I really like: first is how simple it is, but in is simplicity it totally drives home the idea . . . Go check out this game, I think you're going to like it, and I think it's for a great cause."
-Zach on his @knownunknownyt TikTok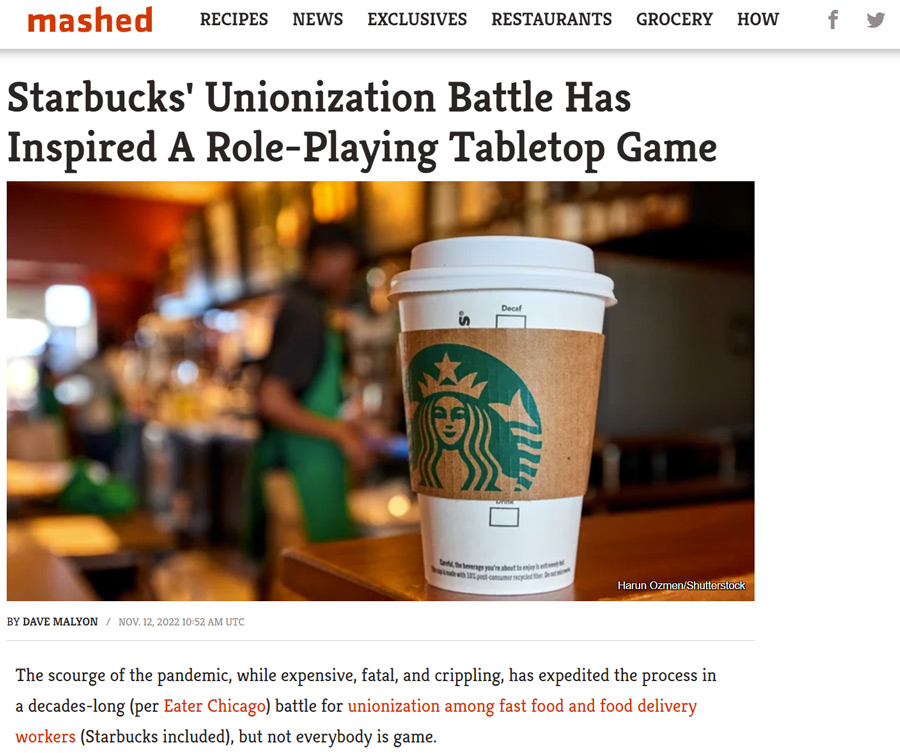 "Cosmic Latte points to the relevance of unionization . . . [Anderson] produced a one-page game honoring the unionization struggle with Starbucks and creating awareness of it."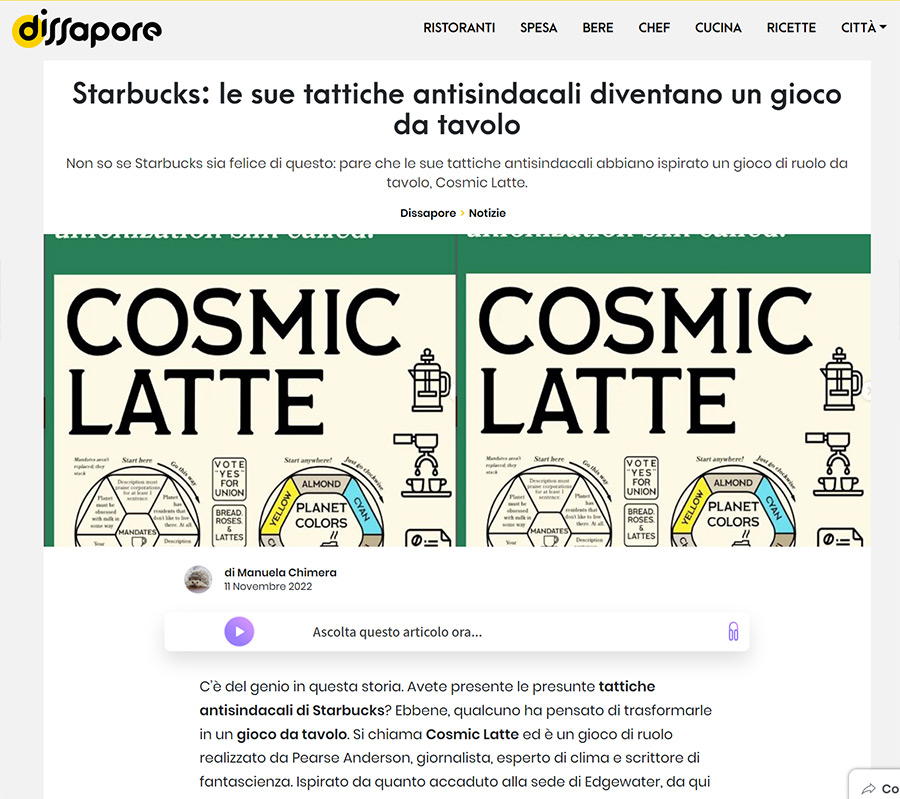 "Non so se Starbucks sia felice di questo: pare che le sue tattiche antisindacali abbiano ispirato un gioco di ruolo da tavolo, Cosmic Latte."
-I think this was written by an Italian AI for Dissapore? Can anyone help? I don't speak Italian!

Playing Cosmic Latte is a surprisingly tense and satisfying experience for a one-page semi-shitpost of a game. It feels like a race to complete with a pen and paper, journaling about planets as fast as you can while staying within the arbitrary mandates and bounds of that round — you might be forced to build an almond-colored war-torn planet while praising corporations with only seconds on the clock.
You have to create new planets in 87 seconds, with each round being increasingly complex. Can you write a description without the letter E? Can you describe a planet in only short sentences? What about both in 87 seconds or less? As you journal away, you also roll dice to organize your workplace for better working conditions—fighting together against difficult rules before you're fired from the galaxy. Dice-rolling is semi-random, so you might be points away from unionizing only to keep rolling 1s and having to jump back into the planet-building journal to buy yourself more time.
This makes having your bargaining unit recognized even more of a breath of fresh air. Highest high, lowest lows, chowder-colored planets, y'know, the three main elements of any good sci-fi tale. You might even get some interesting planet ideas from this worldbuilding game. If you want to start off a spacefaring anticapitalist game like Mothership or Rebel Scum, see if you can play Cosmic Latte to collectively worldbuild with your adventuring party, and get them in the mindset of how evil intergalatic corps can be, especially those that must maintain a fantastical universal latte.

Cosmic Latte is my third one-page tabletop game, and one I wrote in a rush for both the close of my local store and a game jam! If there's parts of the game that you think can be clarified or expanded on, please let me know. I'm all ears and still new to this process, but excited to continue to produce food games centered around a better tomorrow: whether that's labor, climate, or community, all are interconnected.

Marvel's Eternals
We Only Find Them When They're Dead
Viditya Voleti's Space Between Stars's galaxy builder tool.
Labor reporting by Kim Kelly, Lauren Kaori Gurley, and Sarah Jaffe.
If you play Cosmic Latte, let me know how it goes! I'd love to see videos, journal excerpts, or post-game reports from players.
Download
Click download now to get access to the following files: