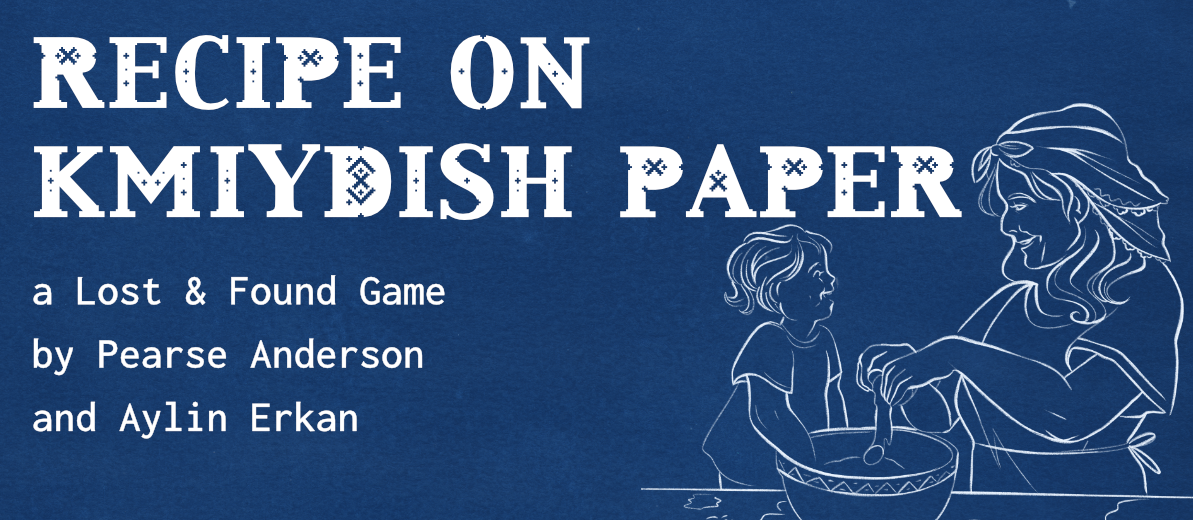 Recipe on Kmiydish Paper
Recipe on Kmiydish Paper is a one-player game about delicious food and the communities who prepare it.

We've all been told that some recipes have been handed down through generations, or kept in restaurant safes for decades, or are only known and cooked by mysterious figures. These recipes, and the food they create, are well-loved historical relics, mirroring a region's geography, politics, and people. What are the hidden histories behind our favorite butter pickles, beers, briskets, and breads? And what would it look like if history was seen through their (yeasty) eyes?

Recipe on Kmiydish Paper is a solitary game built for the Lost & Found jam that answers those questions. Instead of playing as adventurers at a tavern, or even a chef behind the scenes, you will inhabit a food from its conception through history in the sister cities of Blue Kmiyd and Rose Kmiyd.
These sister cities have seen wars, extinctions, and the questionable churn of industrialization transform the landscape and the treatment of citygoers: including the people who recorded your recipe on Kmiydish paper. As an insular cultural group, your creators may use you as an economic lifeline or a form of communal love throughout the centuries. You'll pass through 5 Chefs, each being changed by and changing you, from your ingredients to your street cred to their futures.
You might be the first food given to a newborn by a doula, or a new food entirely whipped up by in a cooking competition, or the food rations thrown into trenches during an Kmiydish civil war. Using random tables, guiding questions, and a twisting three-act structure, you will never play through the same world twice or develop the same strange recipe - which you can cook at the end of your worldbuilding session! An actual play session of all this in action can be listened to or read here
Recipe on Kmiydish Paper is based upon the experiences of pre-WWII Jewish Quarter residents in Eastern Europe and the power and legacy of their food. It's a love letter to Chowder, Strega Nona, Top Chef, and Mandy Patinkin, to name a few inspirations. No dice are required for play, just something to write on, the Kmiydish Rest playlist, and a few hours to build out a food history. This is a perfect pre-game exercise to flesh out the urban or culinary history of a location you can slot into another TTRPG of your choice.

"The game is now available in print for the first time via Exalted Funeral, complete with gorgeous illustrations by Turkish-Ashkenazi artist Aylin Erkan, so if you're looking for something completely different to get your teeth into Recipe on Kmiydish Paper could be just the thing."


"I know that if I let people talk about food, they'll end up talking about power. They'll end up talking about community. They'll end up talking about the legacy of their people," me discussing food gaming philosophy.


From Phillipa Mort's TikTok:
This is a wonderful solo journaling game perfect for world building or for exploring your own food heritage.
More coming soon!

Dive to play as:
The Beverage, from vodka to tea
The Pastry, from matza to croissants
The Meat, from tongue sandwiches to kofta
The Preserve, from sauerkraut to raspberry jam
Be inherited and altered by 27 different chefs, from human to golem, forager to consumer, suppressionist to archivist.
Features 6 stunning artworks by Aylin Erkan, a Turkish-Ashkenazi illustrator, harkening back to cookbook inlays and family memories.
Also includes:
A 60-song playlist, to mark time passing and keep you company!
A D20 list of religious rituals + a D20 list of food culture traditions.
An excerpted dictionary of words and names in the local tongue.
An assorted selection of Kmiydish holidays, rumors, and lore.
An optional "pantry mode" to localize the game to your kitchen.
Game format: 46-page full color PDF, A5 size and formatted to be read as a digital PDF (but feel free to print and play yourself).
Purchase
In order to download this game you must purchase it at or above the minimum price of $7.25 USD. You will get access to the following files:
RecipeOnKmiydishPaper_Digital2.0.pdf
2 MB
RecipeOnKmiydishPaper_Print2.0.pdf
4 MB
Exclusive content
Support this game at or above a special price point to receive something exclusive.
Community Copies
If you do not have the funds for whatever reason, you can claim a free community copy here. Every copy that is sold will also provide another community copy here.